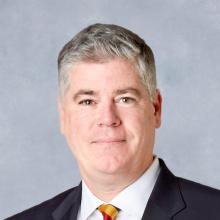 Business Notes, November 14, 2021
WATERBURY – Main Street Waterbury presented its 2021 Community Partnership Award to Michael Liam O'Connor, Regional Chairman and Director of Corporate Real Estate for Webster Bank, on November 10 at the Palace Theater in Waterbury.
The award, created by the non-profit Main Street Waterbury, celebrates the leadership and contributions of the late Stephen R. Sasala, former CEO of the Waterbury Regional Chamber and former Chairman of the MSW Board of Directors. It is presented to a commendable individual whose initiative, leadership and personal commitment embody the spirit of partnership and community engagement.