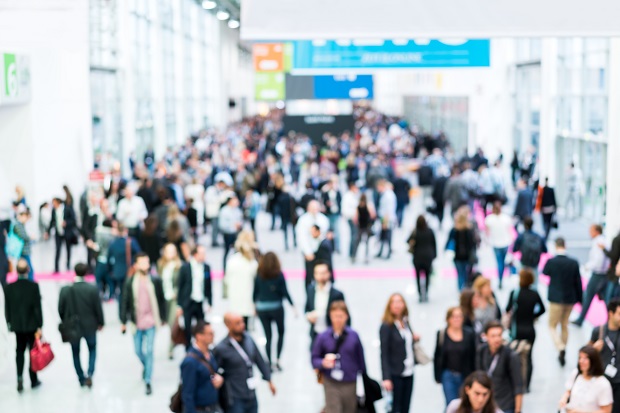 Credit Union Conferences in 2022: A Growing List
Despite continued uncertainty about the future of the COVID-19 pandemic, credit union groups are moving forward with plans for many in-person conferences in 2022. Here's a look at what's been planned so far for the year, listed alphabetically by group name, along with links to conference registration pages when available. CU time will continue to update this list as we become aware of new information.
ACUMA
The American Credit Union Mortgage Association has announced the following in-person events for 2022:
Coalition of African American Credit Unions
The 24th Annual AACUC Conference will be held August 23-27 at TradeWinds Island Resorts in St. Pete Beach, Florida.
Alloya Federal Corporate Credit Union
Alloya Corporate Federal Credit Union will hold its Credit Union Executive Leadership Symposium, September 7-9, at the Westin River North in Chicago.
ALM first
The company's 2022 Financial Forum will be held September 25-28 at the Ritz Carlton, Bachelor Gulch in Avon, Colorado.
APEX 2022
The Cooperative Credit Union Association and the Credit Union League of Connecticut continue their collaborative efforts with APEX 2022. The convention-level event will be held October 12-14 at the Mohegan Sun Resort in Uncasville, Connecticut.
Registration details to come.
California and Nevada Credit Union Leagues
The leagues annual conference, REACH, will be held November 1-4 at the JW Marriott Desert Springs Resort and Spa in Palm Desert, CA.
cornerstone league
The league representing credit unions in Texas, Oklahoma and Arkansas has a number of in-person and virtual events planned for 2022, including:
Credit Union EduCruises
Credit Union EduCruises, a provider of credit union-specific educational cruise programs around the world, will host several face-to-face cruise conferences in 2022 and 2023. A full list can be found here.
Association of CrossState Credit Unions
The association representing credit unions in New Jersey and Pennsylvania has planned the following events in 2022:
CrossState Leadership School 2022, August 14-18, The Penn Stater Hotel, State College, Pennsylvania.
Fall Leadership Conference, September 8-10, The Seven Springs Resort, Seven Springs, PA.
CU Reality Check, October 25-27, The Hershey Lodge and Convention Center, Hershey, PA.
CU Business Group
CUSO Business Services will hold its West Coast conference August 8-10 at the Nines Hotel in Portland, Oregon, and its East Coast conference September 12-14 at the Peabody Memphis in Memphis, Tennessee.
TAILS
The Professional Development Association has a number of virtual events on the schedule for 2022, in addition to the following in-person events:
CUES Execu/Net, August 28-31, Snake River Lodge and Spa, Jackson Hole, Wyo.
Oversight Committee Development Seminar, September 19-20, Hilton Santa Barbara Beachfront Resort, Santa Barbara, CA.
Director Development Seminar, September 21-23, Hilton Santa Barbara Beachfront Resort, Santa Barbara, CA.
CUES Administrators Conference, December 4-7, Caesars Palace, Las Vegas, Nevada.
CULytics
CULytics Day 2022, an event for changemakers in credit unions passionate about data and digital, will be held virtually and for free on August 22. Organizers plan to host an in-person Spring CULytics Summit in late March 2023.
CUNA
The professional association will host a total of more than 70 face-to-face conferences, virtual conferences, eSchools and webinars in 2022; a full list can be viewed here.
CUNA Mutual Group
CUNA Mutual Group's Discovery2022 is scheduled to be held virtually on August 11.
Develop the exhibition
Expand Expo 2022, a training and development event for credit union professionals hosted by Horizon Federal Credit Union ($135 million, Williamsport, PA) will take place September 18-22 at the Kalahari Resort in Pocono Manor, PA.
Filene Research Institute
The think tank has the following events on the calendar for 2022:
FinnovateAutumn
Finnovate is hosting its FinnovateFall fintech conference as an in-person event at the Marriott Marquis Times Square, New York, September 12-14. Registration details here.
GoWest Credit Union Association
The league representing credit unions from Arizona, Colorado, Idaho, Oregon, Washington and Wyoming will hold its annual convention, MAXX, at the Spokane Convention Center in Spokane, Washington, from July 25-27. october.
Healthcare Credit Union Association
The trade association of credit unions that serve healthcare employees and their families will host the 2022 HCUA Annual Conference September 7-9 at the Grande Colonial Hotel in La Jolla, California.
Heartland Credit Union Association
HCUA, which represents credit unions in Kansas and Missouri, has a number of events planned for 2022, including:
Illinois Credit Union League
This state league has a number of in-person events planned for 2022, including:
Southeastern Credit Union League and Affiliates
Other LSCU conferences in 2022 include the following:
MACUMA
The Metropolitan Area Credit Union Management Association is hosting the following conferences this year. MACUMA has pivoted its mini-loan conference from in-person to virtual. According to a March 3 statement, "The health and safety of our members is always our first priority. Although pandemic trends are moving in the right direction, the advice and feedback received indicates that we are not quite ready to hold a one-day classroom meeting yet.
64th Annual Leadership Conference, September 26-29, Hyatt Chesapeake, Cambridge, Maryland.
Association of Credit Unions of Maryland and DC
The Maryland and Washington, DC Credit Union League has several virtual and hybrid events planned for 2022 so far.
Silver 20/20
The fintech conference will be an in-person event in Las Vegas at The Venetian|The Palazzo and Sands Expo, October 23-26.
myCUmortgage
The 2022 myCUmortgage Partner Conference, hosted by myCUmortgage, a $7.2 billion wholly-owned CUSO, Beavercreek, Ohio-based Wright-Patt Credit Union, will be held October 17-19 at the Dayton Marriott in Dayton, Ohio .
NAFCU
NAFCU has the following events on its agenda for 2022:
Congressional Caucus, September 11-14, Washington, DC
Regulatory Compliance and BSA Seminar, September 27-29, Louisville, Ky.
Institute of Management and Leadership, October 17-21, Annapolis, Maryland.
Lending Conference, November 8-10, Greenville, SC
National Association of Credit Union Presidents
The NACUC will host its 46th annual roundtable forum October 12-15 at the Omni Parker House in Boston, Mass.
National Council of Firefighters Credit Unions
The National Council of Firefighter Credit Unions Inc (NCOFCU) will hold its 2022 NCOFCU Conference in New Orleans, Louisiana, October 5-8 at the Royal Sonesta Hotel.
National Council of Postal Credit Unions
The NCPCU will host its 33rd annual UC Strategy Summit at the Grand Hyatt in Washington, DC, October 30-November 1.
NCUA
The NCUA will host the 2022 Diversity, Equity, Inclusion and ACCESS Summit November 2-4 as a hybrid event. Information for registration for the event will be published shortly.
This two and a half day event will bring together professionals from credit unions and other financial institutions to:
Promote the value proposition of diversity, equity and inclusion.
Share best practices in DEI and financial inclusion.
Develop solutions to industry-specific challenges.
The summit will include panel discussions with diversity, equity and inclusion experts, as well as fireside chats, panel discussions and keynote speakers. Session topics cover a wide range of DEI-related areas, such as how to create a successful DEI program; including programs for LGBTQ+ and disabled communities; cryptocurrency and the unbanked; digital access; and inclusive lending. Speakers include NCUA President Todd M. Harper, Vice President Kyle Hauptman and Board Member Rodney E. Hood.
National Credit Union Call Center Conference
Organized by the Credit Union Association of New Mexico, the National Credit Union Call Center Conference will take place October 24-26 at the MGM Grand in Las Vegas.
The Small Call Center Workshop: Delivering Big on Quality and Productivity, a one-day workshop, will follow the National Credit Union Call Center Conference on October 26 at MGM Grand.
National Association of Credit Union Management
NCUMA is planning the following conferences for 2022:
Sharetec
Credit union software provider Sharetec will hold its 2022 Sharetec User Conference September 25-28 at the Hilton Downtown Nashville in Nashville, Tennessee.
Sync1 Systems
CUSO Lending Technology Sync1 Systems will host Lendtopia 2022 September 28-30 at Kalahari Resorts & Conventions in Round Rock, TX. Participants can make their hotel reservations on this link (the deadline for blocking rooms is August 29).
Triverity and the Loan Service Center
TriVerity & The Loan Service Center, PSCU Companies, providers of delinquency management services for credit unions, will host their 10th Annual Collection Academy at the Embassy Suites Hotel in Bloomington, Minnesota, October 4-5.
VentureTech
Presented by Founding Sponsors Curql Collective and CUNA Strategic Services, VentureTech 2022, a fintech showcase for the credit union industry that brings together fintech companies, credit unions, CUSOs, venture capitalists and investors. other players in the credit union industry, will be held from November 7 to 9. at the Omni Frisco Hotel in Frisco, TX.
Virginia Credit Union League
The Virginia league will host the following in-person conferences in 2022:
East Coast Marketing Conference: September 14-16, Hilton Garden Inn, Virginia Beach, Virginia.
CEO Summit (for major credit unions): September 28-30, Boars Head Resort, Charlottesville, Virginia.
CEO Forum (for small and medium-sized credit unions): October 18, The Place, Richmond, Virginia.
Vizo Financial Corporate Credit Union
Vizo Financial will host the 2022 Financial Conference at the Ballantyne Hotel in Charlotte, NC from September 14-16, 2022. For those unable to attend in person, Vizo will be offering on-demand recordings of the sessions.
Wisconsin Credit Union League
This state league will host a number of other virtual and in-person events in 2022.
If you have new or updated information to share about a 2022 credit union industry event, please send it to Natasha Chilingerian at [email protected].