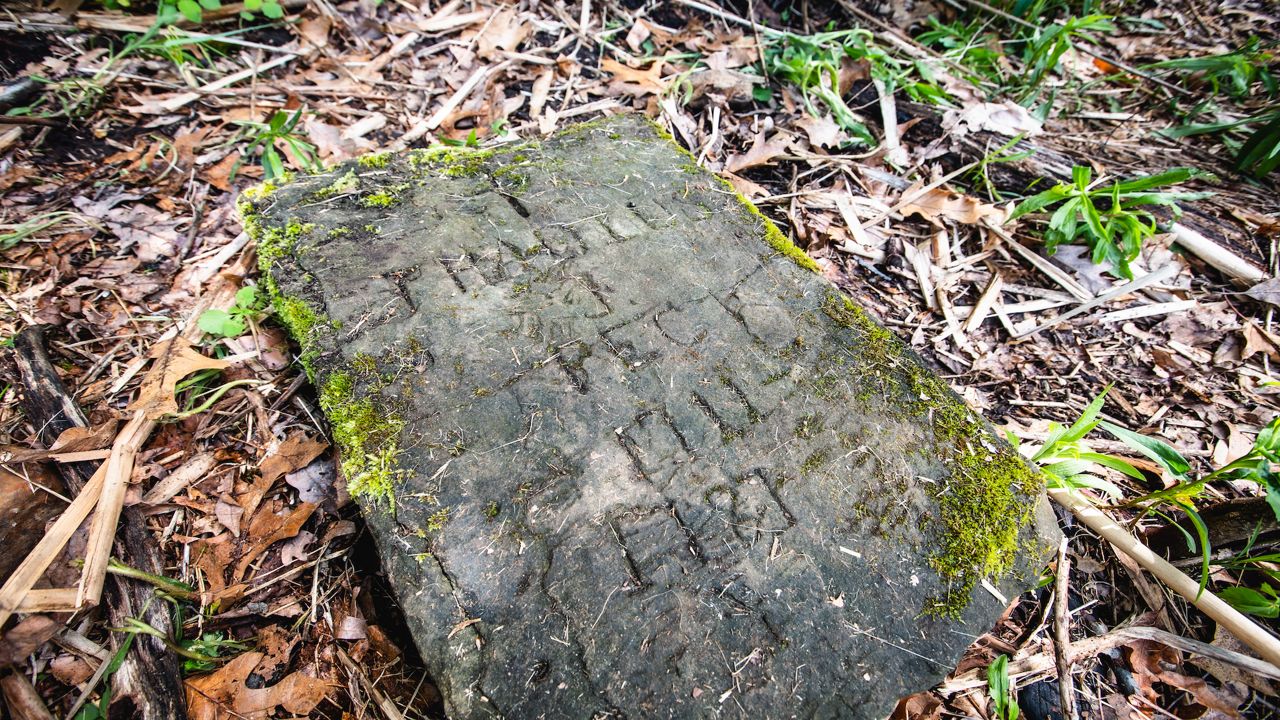 Fisherman finds 240-year-old rock near Cuyahoga River
CUYAHOGA FALLS, Ohio – A father and son walking along the banks of the Cuyahoga River last month made a startling discovery that has sparked the interest of historians, scholars and residents.
Cuyahoga Falls resident Richard Ryan and his son John, who were from Indiana, said they remembered fishing together in the river when they came across a large flat rock etched with a name and date: Thadius Peck 1711-1787.
Assuming the stone was a headstone or memorial marker, the men went to the Cuyahoga Falls Historical Society, which is run by volunteers two days a week.
"It was a Saturday and I happened to be there," said Shawn Andrews, historical society researcher and board member.
The men told Andrews they had hiked this trail for the past 30 years, she said. When they noticed that the recent removal of the dam had caused the river to recede below where they used to fish, they descended to take a closer look.
"And that's how they found the stone," she said.
Andrews knew the "Peck" surname was associated with the founding families of this area, once known as Connecticut Western Reserve, she said.
But 1787 preceded the founding of Cuyahoga Falls in 1812, and she knew that most of the Western Reserve had just been settled in the late 1700s.
Andrews therefore contacted experts.
"I really engaged all of these subject matter experts as quickly as possible," she said. "And of course, you know, there's a lot of paperwork you have to go through to make sure you're doing it right."
She contacted the University of Akron and was put in touch with Maeve Marino, historical archaeologist at Stewards of Historical Preservation, and John A. Peck, professor of geosciences.
Although little is known about the stone, it does not mark a grave, at least not in this location, Andrews said.
That's because Peck and her team took sediment samples from that area for the past two years when the two nearby dams were removed, she said.
The researchers found that under about two feet of sediment is bedrock, Andrews said.
Krista Horrocks, a cemetery curator with the Ohio Historic Connection, was also asked to weigh in on the stone.
"If authentic, it's probably one of the oldest headstones in the state," Horrocks said.
But unless Thadius Peck can be found in historical texts, no one can be sure the stone represents someone who actually lived in that area, she said.
The spelling of the name "Thadius" is not the traditional spelling of this period, she said, and the inscription on the stone is also unusual.
Most headstones from this era showed age and date of death – not date of birth, she said.
"There are few clues in history to help us solve the mystery because generally most of Ohio was unsettled at this time. Very few people were there in the 1780s. ", she said. "It was a dangerous place at the time.
Mayor Don Walters said in a statement that he had always been interested in founding the town.
"I hope this discovery can shed additional light on who once occupied the area that is now our town and when," he said.
The City of Cuyahoga Falls contacted the Army Corps of Engineers to inquire if the stone could be removed. Without necessary permission, the Cuyahoga Falls Fire Department removed rock from the banks.
To allow the community to view the stone, it will be on display at an open house from 2-4 p.m., Sunday, June 12, at the Cuyahoga Falls Historical Society & Museum, 2083 Cook St. in Cuyahoga Falls.