Florida WIC families will receive a raise for vegetables and fruits; pantries are also getting a nutritional boost
From the Florida Department of Health in Orange County
Earlier this year, the American Rescue Plan Act (ARPA) authorized state agencies for women, infants and children (WIC) to increase WIC benefits for a period of four months, by increasing the check -Vegetables and fruits from $ 9 / month for children and $ 11 / month for women at $ 35 per month, per participant. The WIC Vegetable and Fruit Voucher is known as the Cash Value Benefit (CVB). The CVB is credited with improving the food grade of WIC participants and reducing the prevalence of childhood obesity in toddlers WIC.
Florida WIC to implement CVB increase from June 1, 2021 to September 30, 2021. All women and children ages 1-4 who participate in the WIC program will receive an increase in their fruit and vegetable cash voucher to $ 35 per participant per month. For example, a pregnant woman and her 2 year old child will receive a total cash voucher of $ 70 to be used on fruits and vegetables per month from June to September 2021. Fruits and vegetables can be fresh, frozen or canned. Any brand, variety, size, no added sugar, syrup, artificial sweetener, fat or oil. Organic fruits and vegetables are allowed.
For more information on enrollment and eligibility for the Florida Department of Health's WIC program in Orange County, please call our friendly customer service representatives at 407-858-1494 between 8:00 a.m. and 5:00 p.m., Monday through Friday.
the Florida Department of Health, accredited at national level by the Public Health Accreditation Council, works to protect, promote and improve the health of all people in Florida through integrated state, county and community efforts. Follow on Twitter at @HealthyFla and on Facebook. For more information on the Florida Department of Health, please visit www.FloridaHealth.gov.
By Caitlin Caspi, Associate Professor of Related Health Sciences, University of Connecticut and Marlene B. Schwartz, Professor of Human Development and Family Sciences, University of Connecticut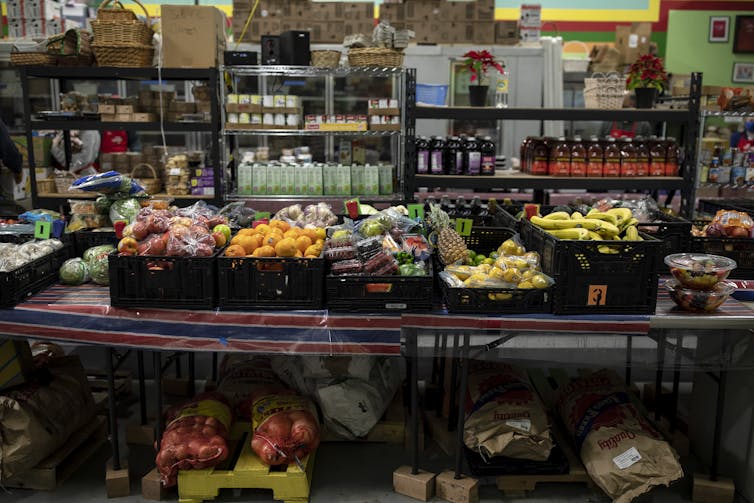 Food banks and pantries across the United States have been forced in the pandemic to do without something that is central to most people's grocery shopping experience: choice.
Faced with social distancing rules and a surge in needs – these nonprofits, according to one estimate, served 55% more people – for the most part, customers were offered bags or boxes of prepackaged food rather than being allowed to choose from the shelves themselves, as was increasingly common before the pandemic.
It was one of the number of adaptations that food banks and pantries created in 2020, which also included drive-thru and expanded meal delivery options.
The contents of these prepackaged bags differed from place to place and also according to the person who assembled them. As a result, there was a great deal of variability in the quality of the products offered and in whether they contained the type of food people were looking for.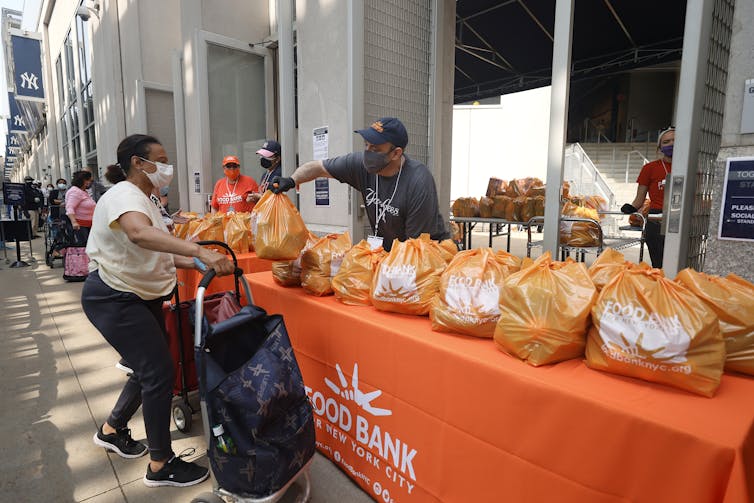 As experts on food policy and obesity, we recognize both the important role of choice for pantry customers and the need to encourage healthier options. People who rely on pantries are at a disproportionate risk of diet-related illnesses like diabetes and hypertension, but most would like to eat more fresh fruits and vegetables.
We are currently working on the charitable food system and its potential to promote a healthy lifestyle through measures including behavioral economics, which uses 'nudges' to promote behavior change.
Our previous research suggests that people want healthy foods that can be used to prepare balanced meals when they visit pantries. In a 2019 study of more than 200 pantries and more than 5,000 of their customers in Minnesota, the top requested The food categories were all healthy items that form the staple of the American diet, including meat, fresh fruits and vegetables, dairy products, eggs, and common ingredients like flour and spices. In fact, over 90% of customers said they would like to have more fresh fruits and vegetables.
At the same time, only about half of those surveyed said that fresh fruits and vegetables were available in their local pantry on every visit. Demand for healthy foods has been consistently demonstrated in studies other American areas as well as.
Another key finding from the Minnesota survey was that people who visit pantries place a very high value on choosing their own food. They said it was even more important than having reasonable wait times and being greeted by volunteers.
Because customers really want healthy food, it makes sense that pantries make it easier for them to make healthier choices. This requires ensuring that pantries provide a constant supply of healthy and fresh food. It also requires displaying food in a way that is attractive and accessible to people.
It's here that behavioral economics can be useful in guiding pantry customers to healthier food options.
Changing behaviors
Behavioral economics relies on the way people make decisions by restructuring environments to encourage certain choices. For example, grocery carts got bigger over the years to get people to buy more food. The idea behind bigger carts is that fewer people will walk to the checkout aisle with a cart that looks empty, so they'll buy more stuff.
Behavioral economics strategies are commonly used in grocery stores, but they work well in pantries for several reasons. Many behavioral economics strategies are compatible with the way pantries already operate. And pantries have leeway to set default options for customers. This may mean offering bags of produce by default, but providing one-day birthday cakes on request, rather than displaying them outside the front door.
And unlike many grocery retailers, as non-profit organizations, pantries do not depend on advertising from food distributors for their income. This means that pantries are not required, for example, to display soft drinks prominently as is the case in many supermarkets. They are also free to change their layout and what is on the shelves to encourage customers to choose healthier options.
Pantries who have started using behavioral economics to promote healthier choices are seeing results. Studies in Utah, Minnesota and new York have shown that people are more likely to eat healthy foods from pantries when pushed.
New tools make it easier to use behavioral economics. In March 2020, Healthy Eating Research, a national program that supports research into strategies to promote healthy eating in children, released a new food safety guidelines food bank and pantry offerings. These guidelines were supported by Feeding America, the largest network of food banks in the United States.
The new guidelines propose a system of classifying individual foods into a three-tier system using a "stop light system" of green, yellow and red, according to their nutritional value. Brake light systems like this have long been used in other countries to encourage people to buy healthier foods in grocery stores.
Perhaps the most common food grading system in the charitable food system is Supporting well-being in pantries. SWAP, which was introduced in 2016 and has been updated to meet new charitable food guidelines, can be used to encourage both pantry staff to get healthier foods and customers to choose them. Research has shown that SWAP has resulted in healthier foods in the pantry be ordered by staff and offered to customers. In our most recent study We found that after implementing SWAP in a pantry, clients chose a lot more "green" foods and less "red" foods.
A post-pandemic model
The pandemic has accelerated the emergence of a number of innovations in food banks and pantries and has encouraged customer-centric practices such as trauma-informed services, new mobile and delivery options and opportunities to preserve customer anonymity. New models are also being considered to meet not only the immediate needs of customers, but also the root causes of food insecurity.
As pantries evolve into a post-pandemic model, we believe placing choice at the center and helping guide decisions by pushing toward healthier, more nutritious foods would serve pantry customers well.

This pantry item is reposted from The conversation under a Creative Commons license.