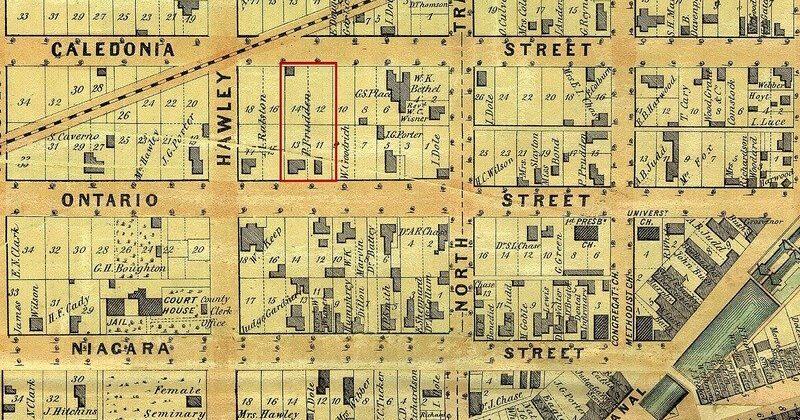 NIAGARA DISCOVERIES: Charity Davis Prudden | Lifestyles
Continuing the series on some of the pioneering women who called Lockport home but were often in the shadow of their husbands and children, this week's Niagara Discoveries shines a light on the life of Charity Davis Prudden. She was not only the mother of the family who established what is now the Prudden & Kandt Funeral Home, she also resided for 35 years in Colonel William Bond's home at 143 Ontario Street, now part of the Niagara History Center.
Charity Davis was born on February 8, 1794 in Oxford, Connecticut, the daughter of Colonel John Davis and Mehitable Thomas Davis. She married Peter Prudden of Milford, Conn., in 1814, and they settled on a farm in Orange, Connecticut. Over the next 21 years, Charity gave birth to eight children, seven sons and one daughter. Although no exact reason is given, the Pruddens left Orange and moved to Lockport in 1835. Perhaps they had heard of the fertile farmland for sale in Niagara County.
The family plotted a sloop from Milford to take them around Long Island and up the Hudson River to Albany where they boarded a riverboat for Lockport. Charity's last child was born in February 1835, so he was just a baby when they made their journey. The baby's name was Orange, a possibility in recognition of the house they were leaving. The other seven children were between the ages of 4 and 19.
Where the large Prudden family lived when they arrived in Lockport is unknown. A letter Charity wrote to her son George, who was studying at Yale Theological College, dated October 13, 1836, implied that they may have rented a house, or even a farm, near the village of Lockport.
"Our house is going slowly. It will take them up to two more weeks to complete the masonry work. It is very doubtful that we can enter into [it] this winter… It's been very cold all summer. We had snow in September and frost which ruined all our grapes and many other things. We had snow in October which destroyed a lot of fruit trees. »
In this same letter, Charity expresses the anxiety that every mother feels for her children, especially if they are away and have a health problem. George had mentioned in a previous letter that his eyes bothered him. Charity replied, "…I feel very alarmed about them, especially since it is happening without apparent cause…" In the following sentences, she tells him four times that he should go home home because it is the best place for him to be during his illness.
The next letter in the History Center collection, written by Charity, is from June 26, 1838, also to her son George. It is assumed that at this time the Pruddens were residing in the brick house on Ontario Street. Charity told her son, "We have the families of Mr. Clarke and Mr. Winchill boarding with us. It's quite an addition to my worries, but my health is good and my spirits are better than they have been since I've been at Lockport.
She goes on to tell him that she is now worried about her daughter Nancy, who returned home from Oberlin College in Ohio "in poor health…She had worn herself out from applying herself… .You know very well my view on intense thought without a variety. The subject of religion has nothing even to deflect if health is likely to suffer. (There was a belief in the 19th century that too much "mental exertion could make women sick. Nancy recovered and married a year later. She had five children and died in 1910 at the age of 92." had no effect at all. long-term on his health).
In the 1840s, the Pruddens' sons, James Davis (usually called Davis), Henry, Giles, and Lewis, all married and left Lockport to settle elsewhere in Niagara and Orleans counties. Davis died suddenly in 1848 at the age of 28, leaving a pregnant widow and a 2-year-old son. In 1850 Lewis married Davis' widow. A heartbreaking tragedy occurred when Charity's two youngest sons, John and Orange, aged 16 and 12, died less than two weeks apart in December 1847. Their cause of death is unknown.
Lockport's 1851 map shows the Prudden property at 25 Ontario Street (now 143 Ontario Street). At the time, it extended to Caledonia Street. Some of Charity's neighbors were household names in Lockport history, including Ralston, Keep and Chase. It is never stated in the census records exactly what Peter Prudden did for a living. In the few letters that have come down to us, mention is made of a farm, mortgages, and the buying and selling of land. Looking at property assessment records, Charity's husband handled these transactions from the time they moved to Lockport until his death in 1875. In the Town of Lockport Directory of 1875, the only which actually gives Peter's occupation he is listed as a "retired farmer". ."
Of Charity's five remaining children, George was a pastor and lived in New Haven, Connecticut; Nancy and her family sometimes lived with her parents in Lockport or at her home in Medina. Henry also resided in Medina. Lewis had a farm in the town of Lockport and Giles lived in Millville in Orleans County not far from Nancy and Henry.
Information about Charity's later life is minimal. Two family histories, one about the Davis family and the other about the Pruddens, described her as a religious woman who, along with her family, abstained from alcohol, tobacco, or profanity. She was also "an enthusiastic worker in the missionary cause." Her religious affiliation is unclear, but due to her New England roots and the fact that her son George was a Congregational minister, she may have belonged to this church at the corner of Niagara and Church streets.
Charity Davis Prudden died in 1872. Three different sources have three different dates of death that year. The Cold Spring Cemetery burial record lists March 17 as the date of his death, so this is likely the correct date. If this is the correct date, she only preceded her son George in death by a month. Peter Prudden died in 1875. The Prudden family plot at Cold Spring Cemetery contains the remains of four of their sons and numerous grandchildren and other relatives.
Ann Marie Linnabery is Associate Director of the Niagara History Centre.